Frequently asked questions
I have children. Is there something for them to do during Service?
---
At UMCSCC we have wonderful children and youth programs. On Sundays the children are welcome to join our Kids Club (grade K-5) or UTC (Under the cross) Youth (grades 6-12) groups. Sunday school runs form 8:30AM-9:45AM. We also have a fully staffed nursery for the younger children.
---
I am new to church. Will I understand the sermons if I am not familar with the Bible?
---
At UMCSCC we practice what we preach!! Our pastors are just normal men and women who have been Blessed to spread the gospel and they do so with personal experiences and stories that relate to the scripture selected. We invite you to listen to one of our sermons online! We promise to provide you with the spirtitual feeding you may not have even known that you needed! And if you are familar with the Bible, expect to pick up a few things every week you may not have thought of before.
---
Am I expected to give?
---
Your gifts are very important. We ask that you pray about what you would like to give - but this commitment is between you and God. We appreciate all gifts, both monetary and in service through volunteering. Please let us know if you have additional questions on how to serve or would like to sign up for hassle free electronic tithing.
---
How do I get involved?
---
We have so many ways to be involved, from being up front and centered as a greeter or an ask me member to more behind the scenes with our Audio, Visual, and Lighting department or helping in our kitchen. We have heavy lifting with our Disaster Response Team and Timely Treasure Team. We have compassion and love in our Congregational Care Group. We have places for everybody. Take a look at our ministry page to see where you're being called to serve. You can reach out to the office with questions by phone or email as well. And of course, stop by the office, we would be happy to sit with you and find the best way to have you involved. 813-634-2539 sccumc@sccumc.com
---
How do I become a member?
---
If you are intrested in becomig a member of our church reach out to the church office and we will set up a time for you to speak with one of our pastors.
---
If I have more questions who/how can I ask?
---
You can come by or call the church office during office hours 813-634-2539 1210 Dell Webb Blvd W. Sun City Center, Fl 33573 Mon-Thur: 8:30AM - 4PM Sunday: 8:30AM - 12:30PM Email - sccumc@sccumc.com
---
Do I have to dress up?
---
At UMCSCC you will see much of our congregation dressed semi-casual. We would love for you to join us as you are. Whether you are in jeans and a t-shirt or dressed in your "Sunday's Best" you will fit in just fine. We do not care how you come to worship just that you come to worship!
---
---
Frequently Asked Questions
Apa itu waitlist challenge?
---
Sebuah periode di mana kamu berkesempatan untuk mendapatkan akses eksklusif lebih cepat ke aplikasi Nanovest, dan juga mendapatkan rewards yang menarik! Kamu bisa menang 100.000 NanoByte Token (NBT) dalam periode ini. Kunjungi nanobytetoken.io untuk pelajari lebih lanjut mengenai NBT.
---
Apa itu NanoByte Token (NBT)?
---
NBT adalah crypto token dari Nanovest. Kamu bisa dapetin NBT dengan download Nanovest & ikutan waitlist challenge. Selain itu, kamu juga bisa dapet NBT dengan ngelakuin berbagai aktivitas dan transaksi setelah kamu dapat full access ke semua fitur di Nanovest.
---
Kapan saya bisa mulai investasi saham & aset kripto di Nanovest?
---
Saat ini, aplikasi Nanovest sedang dalam rilis terbatas. Kamu bisa mulai investasi setelah kamu dirilis dari waitlist. Kami akan memulai proses rilis pada 10 Desember 2021. Semakin tinggi posisimu di waitlist challenge, semakin cepat kamu dirilis & bisa menikmati seluruh fitur di Nanovest! Ayo download Nanovest & join waitlist sekarang dan jadilah yang pertama untuk nikmati semua fiturnya!
---
Apa itu Nanovest?
---
Nanovest adalah aplikasi investasi revolusioner di Indonesia. Di sini, kamu bisa investasi saham luar negeri & aset kripto dalam satu aplikasi, pertama di Indonesia. Selain itu, kamu bisa transfer uang gratis ke siapa pun & kapan pun! Semua investasi di Nanovest mulai dari Rp 5ribu aja, bebas biaya transaksi, dan tentunya gampang banget. Kamu juga bisa dapetin berbagai hadiah menarik, mulai dari uang, aset kripto, dan masih banyak lagi. Jadi, yuk download Nanovest & ikutan waitlist sekarang!
---
Sampai kapan waitlist challenge akan berlangsung?
---
Waitlist challenge dimulai pada 22 November 2021 dan akan berakhir pada 10 Desember 2021.
---
Apa yang terjadi ketika saya masih berada di dalam waitlist?
---
Kami berusaha keras untuk menghadirkan Nanovest secepatnya kepada kamu. Kami akan merilis semua user secepat mungkin, dan tentu saja kamu akan diberi tahu jika sudah dirilis! Penasaran dengan aplikasi Nanovest? Yuk, intip lebih lanjut di bagian "News" di halaman Utama aplikasi Nanovest
---
Bagaimana cara kerja waitlist challenge?
---
Setelah kamu daftar ke Nanovest, kamu bisa lihat posisimu di waitlist / daftar tunggu. Ajak teman ke Nanovest sebanyak-banyaknya pake kode referral kamu. Saat temanmu daftar ke Nanovest pake kode referralmu, posisimu di waitlist akan naik. Kamu dan temanmu juga akan dapat masing-masing 20 NBT.
Selain itu, kamu juga bisa menang 100.000 NBT tergantung dengan posisimu di akhir periode waitlist challenge (lihat tabel di bawah):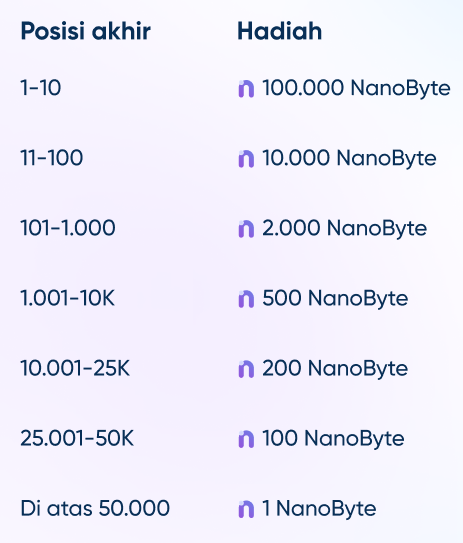 ---
---